Receive Graduate Credit for PCI Courses
The Parent Coaching Institute and Parent Coach International partner with Southern New Hampshire University so that participants in the Parent Coach Certification® Program who choose to can receive graduate credit for one or more of the PCI Courses.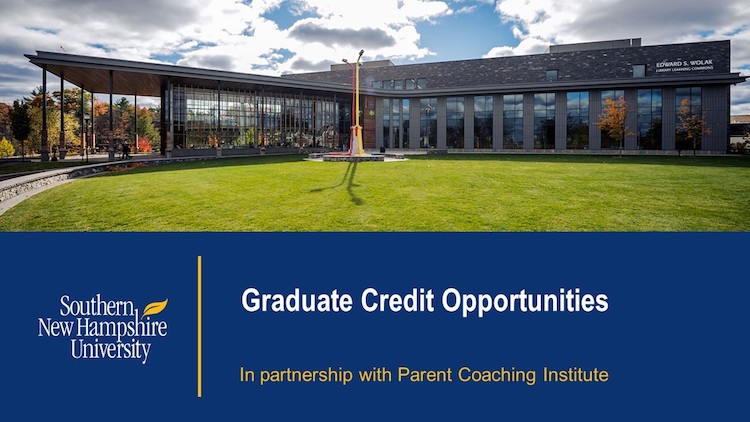 Southern New Hampshire University (SNHU) is the second largest non-profit provider of online higher education in the United States, offering outstanding programs worldwide. In 2012 SNHU was listed #12 on Fast Company magazine's "World's Fifty Most Innovative Companies" and was the only university included. In 2017 U.S. News & World Report named SNHU Most Innovative University and one of the nation's Best Regional Universities. At the helm of SNHU is President Dr. Paul J. LeBlanc, a renowned former Senior Policy Advisor at the U.S. Department of Education, recognized for his academic leadership on competency-based education and new accreditation pathways. Forbes magazine has listed Dr. LeBlanc as one of its 15 "Classroom Revolutionaries" and one of the "most influential people in higher education for 2016.
PCI is grateful and honored to team with Southern New Hampshire University as part of our on-going commitment to offer the most comprehensive parent coach training program available.
Important Information
Each PCI Course is approved for 6 graduate-level credits. Students may receive up to 24 graduate-level credits for the Parent Coach Certification® Program.
The fee is $112 per credit, $672 per PCI Course. (Please note: This fee is additional to the PCI tuition fee.)
Students must first be accepted into the PCI Program to be eligible to receive credit. Learn how to apply here.
Questions? Please contact the PCI Office: 425-449-8877 or info@pcicoach.com.