The 3 × 5 Miraculous Minutes of the Day!
by Heba Fawzy
PCI Certified Parent Coach®
Owner, Parenting with Flavor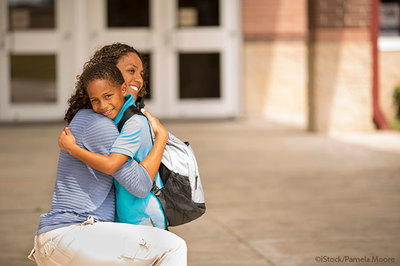 "Hurry up kids, the bus is here!"
"Finish your homework!" 
"You're 10 minutes past your bed time!"
Do any of the previous statements look familiar to you? Have you ever caught yourself saying hard words to your children and then end up feeling sorry and guilty? The days in the 21st century seem shorter, the hours move faster and parents are much more stressed off course. We are all overwhelmed and busy 24 hours a day; mother's mind is working while sleeping to finish the unfinished daily tasks. We keep rushing our children then wonder why we do so. We plan and decide to take it easy, calm down and start a new page the next day. But when that next day comes….the cycle starts over again endlessly.
During my one-on-one parent coaching practice I work with amazingly loving mothers who want so much to have a healthy, calm and enjoyable life with their children but they don't know where to start.
Since willingness and focus are two main factors of a successful transformational coaching process, I usually start with focusing on "three specific five minutes" of the day and consider how to make them remarkable for our children. Those are:
the last five minutes before the children go to school
the first five minutes after the children come home from school
the last five minutes before they go to sleep 
Are these 15 minutes enough to rebuild the parent-child bond and relationship? The answer is "Absolutely YES."
During my parent Coach Certification® Training, I learned the principle: "Little things mean more than we think." So, during my coaching practice I help parents put this principle into action. Now as a PCI Certified Parent Coach® I have seen many significant positive changes when parents start with doable small changes. I can readily assure you that those 15 minutes will definitely be an excellent start. The question now is how to make each of them "remarkable" and "miraculous"?
The last five minutes before the children go to school
After the rushing, running and the usual hassle of the morning rituals of getting dressed, having a quick breakfast and preparing the school bag, there is nothing more soothing than a warm mother's hug with a whisper in the child's ear of "I Love You" and "Have a beautiful day, son/daughter." This works like magic and sets the child's mind to a fresh start for the day. S/He goes to school feeling loved and cared for by the most important person in his/her life. And as the research in positive psychology consistently demonstrates: Positive feelings about self, raises a child's self-confidence throughout the entire school day, spilling over into learning outcomes and how the child perceives him or herself as a learner.
The first five minutes after the children arrive home from school
After a long day at school filled with rules and instruction, playing and studying, away from home and family, a wide loving smile and a welcoming voice saying "I missed you", "how was your day?" will fall on your child's heart like a warm sun ray falling on wet grass in a cold winter morning. After a genuine connection with you listening carefully and asking thoughtful questions, your child will be ready to move forward in the day with chores, meal preparation, or other activities, knowing you are there to continue to listen to any school stories s/he may want to share.
The last five minutes before your child sleeps
No matter how stressful your evening was with all the household duties, no matter how hard your time was while you were getting your children to do their homework and finish all their chores on time, never let them go to bed feeling guilty or unloved by you. You might not be ready for a bedtime story, you might have been angry because of a bad grade or an unaccepted answer back or behavior. Always separate that from the last five minutes daily habit with your child. Whether he is 6 or 16 there is nothing on earth like "mummy tucking me in bed feeling" with a good night wish. Those moments will give children, as well as teens, a feeling of warmth and safety all night long.
Parenting can easily be an enjoyable job after all…. with the special flavor of your choice that you add to your child's daily life.
---
Heba Fawzy is a seasoned educator having worked with students, teachers, and parents in varied experiences as a high school Science Teacher, as the Head of the Science Department, and as an Elementary School Headmistress. Heba believes parents are the engineers who design and build their own unique parenting structure. And she helps them do just that through her parent coaching practice, Parenting With Flavor. Contact Heba for more information: h.m.fawzy@gmail.com.
Copyright © Heba Fawzy, 2017. Used with permission.