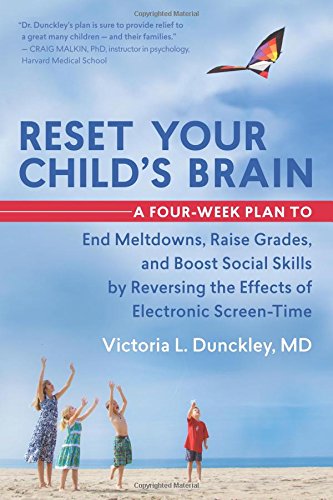 Book review by Gloria DeGaetano
PCI Founder and CEO
If I were independently wealthy, I would send Dr. Dunckley a bouquet of fresh flowers every week for the rest of her life. I have told her this myself because I am so grateful she wrote this book! I believe she has done a remarkable job of synthesizing the research on the damaging effects of overuse of screens, while thoughtfully presenting what to do about it. Reset Your Child's Brain is a precious gift for every family on the planet.
As an integrative psychiatrist, Dr. Dunckley uses a holistic approach in addressing the needs of the whole child. She does the same here. She comprehensively demonstrates how too much screen time adversely affects all aspects of a child's brain/mind/body development, and how those effects relate to behavior/mood changes, the potential for academic success, physical health and stamina, resilience, along with many other concerns of today's parents, such as sleep disruption, language delays, and attention, sensory integration problems.
Back in 1990 Jane Healy's book, Endangered Minds compiled the research to date showing that overuse of screen technologies "hyper activated low brain regions and under activated cortical functions." Considered an immediate classic, Dr. Healy's book made me realize that if kids were spending more time with screen technologies than any other activity in their lives, it's bound to have major effects on all aspects of their development. This understanding eventually led me to begin the Parent Coaching Institute.
Like Endangered Minds, Reset Your Child's Brain offers compelling reasons for limiting or eliminating screens, based on sound science. For instance, Chapter Two, "All Revved Up and Nowhere to Go" thoroughly explains the brain/nervous system features that get "hooked" with screen interface. The reasons overuse of screens suppress cortical functions are explained in detail. In addition, Dr. Dunckley clearly examines the stress response that screens ignite, with pertinent examples and charts providing quick overviews to the scientific information she details in her engaging writing. She clearly demonstrates key aspects of the screen-brain-nervous system interface that stresses out our kids, which include intense sensory stimulation, reward and addiction pathways, media multi-tasking, and disruption of the body clock.
The compelling information in Chapter 2 can be a game-changer for many, since most of us don't consider in our busy everyday life how the screen interface upsets brain/body/mind interactions. For instance, after carefully explaining how screens can cause a stress reaction, Dr. Dunckley points out, "When under stress, blood flow in the brain is repeatedly shunted away from areas of higher (the cortex, or 'new' brain, seated deep within). In other words, blood is directed to the areas involved in survival..." She goes on to say, "Interestingly when I've treated patients with the Reset Program and they continue to be screen-free afterward, they seem to mature developmentally in leaps and bounds—in a matter of months. This suggests that liberation from screens redirects robust blood flow back to the frontal lobe, thereby supporting healthy brain development." (p. 46)
The book is divided into three parts:
Part One explains the research, what Dr. Dunckley calls "the inconvenient truth about electronic media." In this section she lays out the reasons why she believes "electronic screen syndrome" ESS is an "unrecognized disorder" but a real disorder nonetheless, impacting a wide variety of psychiatric, neurological and behavioral disorders. Screen activities have cumulative deleterious effects and can "hi-jack the brain in the same way as drugs and alcohol." She concludes this section with a compelling look at what is possible when the developing brain is screen-liberated.
Compiled from her research of working with hundreds of families, she outlines the typical gains from within days of going scree-free, to the considerable benefits over several years. You may be surprised to note the progressive upward developmental spiral, not only with the child's outward behaviors, but also with his/her deepening inward understanding of self. As a parent and educator, I am concerned about the child's concept of self as a learner and as a creator. If this self-identity exists, then screens are more likely to be used and managed well. If the child doesn't have an inherent healthy self-identity, then screen addiction is more likely. When I went screen-free with my own sons (back in the late 1980s) and with parents I have helped since then, I have seen many times this upward progression Dr. Dunckley describes. I know from my own experience that what she says works and works well.
The less screen time for children and teens = the more mature, optimal cognitive, emotional, social, moral development. Once parents start seeing this equation themselves, it becomes easier to make the courageous, "inconvenient" decisions necessary to eliminate or moderate screen time. Parents I work with become so convinced by all the positive changes they see in their children (and in themselves), they don't turn back to old screen habits. Why would they?
So I am hopeful that after reading Section One, the compelling information will motivate most parents to try out the four-week reset program. Detailed in Section Two, with plenty of real-life examples and practical suggestions, the four-week "screen fast" comes into clearer focus. Soon the reader understands it as an invitation to a wonderful opportunity, rather than a call to deprivation.
From my personal and professional experiences, changes in media habits are often easier than parents anticipate. Setting boundaries, making new rules, and approaching contentious issues in a different way calls for parental will and skill, to be sure. But when parents give consistency and commitment to the changes they want to see, they usually find out that young brains—even teen brains adjust in time. In addition, with less screen time, kids are more likely to realize that we parents take this tough stance because it is in their best interests.
Dr. Dunckley's examples can be equally reassuring. Success stories from parents who thought they could not accomplish all they did in so short time inspire readers, "to give it a try." And much information is provided to help you take one step at a time. The first chapter in this section details a preparation period for the entire family, including the importance of setting realistic goals. The chart on page 132 summarizes the likely areas of concern: Emotional, Behavioral, School-Related, Social, and Physical. Having these categories readily available helps in deciding on the priorities to be addressed during the plan. From there, the next step is to establish the top three problem areas, with their current severity, and to establish a goal for each. Dr. Dunckley has a practical chart for this, too. She also provides sample letters, making it easier to gain support for the reset program from teachers or relatives. With such preparation tools, readers can anticipate positive activation of the plan.
The next chapter in this section explains how to implement the plan, providing in detail what to do when encountering resistance from the child/teen, siblings, or other family members. Throughout the process, Dr. Dunckley continually re-states the importance of doing small thing, and observing the effects, rather than giving up entirely. She ends this section with two important chapters—one on tracking progress to decide what's working and what's not working. The other chapter details ways for you to decide when to eliminate screens. Or, you may be able to put into place a plan for moderation—new rules that make sense after assessing the results of the four-week reset with practical tips to monitor and adjust as you go. With consistency and commitment, parents develop family screen habits that support, rather than negate their children's optimal development.
Section Three takes a broader view on developing action plans for home, school, and community that support long-range sustainable and wise use of screen technologies.
In the chapter, "Everyday House Rules and Protective Practices" teachers and parent educators will be delighted to discover a medical doctor who tells parents what you have been telling them for decades:
"In the spirit of keeping screen management low-tech, I prefer using simple kitchen timers rather than parental controls on the computer." (p. 254)
"...movement and play are more important than homework." (p. 256)
"...restorative sleep is reparative." (p. 256)
"It is well-documented that children who receive healthy nurturing early on—such as being held, rocked, soothed, and attended to by an 'in tune' empathetic parent—have larger brains than children who do not receive adequate nurturing or who are outright neglected." (pp. 257-258)
The three distinct sections of the book make it a handy go-to reference tool when considering specific concerns or pondering a particular question or issue. In addition, each chapter in each section ends with a bulleted list of "Take-Home Points." These pages encapsulate vital information and excellent guidance.
Reset Your Child's Brain is a must-read for every parent and family professional working with parents. There is much to learn from and act upon in this book. If you don't have your copy yet, I strongly urge you to pick one up today. It will give you the information and the tools to put you and the children you love way ahead of the curve. Guaranteed!