Book Review of The Co-Parents' Handbook
by Karen Bonnell, with Kristin Little
by Gloria DeGaetano
PCI Founder and CEO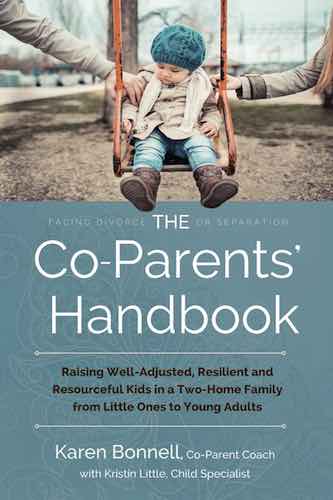 When we begin the journey of building a home and of parenting our children, few, if any of us, plan for the possible dissolution of that home, and for separation and divorce. Frequently, though, in spite of our best intentions and efforts, we find ourselves caught up in trying to parent children while going through separation and divorce. And, if we felt unprepared for the challenges of parenting before, the challenges while going through a divorce are simply overwhelming. How do we co-create what is necessary for our children in this process?
The subtitle of this comprehensive handbook is: Raising Well-Adjusted, Resilient and Resourceful Kids in a Two-Home Family from Little Ones to Young Adults. In the chapters listed below, the authors provide the guidelines to do just that.
1: The Journey from Spouses to Co-Parents
2: The Journey for Kids through Divorce/Separation
3: Settling into a Two-Home Family
4: Communication Protocols that Work
5: "Who's on First?" (Decision-Making)
6: "The Buck Stops Here" (Managing Finances)
7: Co-Parenting at Holidays and Life-Cycle Events
8: Co-Parenting in Public Spaces
9: New Adults in Your Children's Lives
10: The Co-Parenting Relationship: Skill, Acceptance, Maturity
11: Raising Well-Adjusted, Resilient, and Resourceful Kids in a Two-Home Family
Addenda: Additional Resources for Co-Parents (35 additional pages of resources and checklists for co-parents to refer to and use)
This is not a book that you just sit down and read through. It is a guide to be referred to as challenges arise, as the process of becoming co-parents moves from one phase to the next. A useful metaphor might be that it is like a survival guidebook that one might carry when going on a long journey into wild and strange territory. Yet it is much more. If the guidelines are followed, it leads to the ability not just to survive, but also to thrive in the new territory.
The Co-Parents' Handbook is packed with meaningful information. It also is filled with stories of kids and families that come from years of clinical and counseling experience, stories that provide concrete illustrations of the principles of effective co-parenting, and examples of both the positive and negative ways of co-parenting.
Two things stand out for me. First, Bonnell and Little focus on the importance of "uncoupling" during the early stages of the separation and divorce process. Deliberately attending to the uncoupling process builds the foundation for developing a two-home family life that has less conflict, and is more supportive of the growth needs of the children. The second item of great significance to me is the grounding of the co-parenting process in clearly articulated best practices for meeting the developmental needs of the children. The power of this is that it is presented in a way that engages the divorced parents in a common goal of doing what is best for the children.
The authors of this book bring a unique background of experience to the arena of coaching and facilitating co-parenting. Karen Bonnell, ARNP, MS is a board-certified clinical nurse specialist, and a Divorce and Co-Parent Coach. Karen faced the challenge of creating a two-home family before divorce counseling existed. Kristin Little MA, MS, LMHC is a Licensed Mental Health Counselor in private practice. Kristin had to chart her own way through divorce and single parenting. Karen was a founding member of Collaborative Professionals of Washington. Kristin is a board member of Collaborative Professionals of Washington. Both live in the Seattle area. Both are leaders in the movement to reduce the effects on children and families of the conflicts that go with divorce.
How can this book best be used? Each parent that is beginning the journey into co-parenting would do well to have their own copy; it provides a neutral but supportive third voice while facing the turmoil of new relationships and new living conditions. It would also be a valuable reference book for anyone who is counseling or coaching co-parents.
Probably the greatest power of the book would be for a counselor, mediator, divorce attorney or parent coach to recommend or provide the book to clients, with the understanding that all parties in the relationship would be using it as a guide. This would help move hot issues out of the realm of "that's just your opinion" into the realm of objective guidelines based on research and experience. And, it would give all parties the opportunity to operate from a common playbook.