by Gloria DeGaetano
PCI Founder and CEO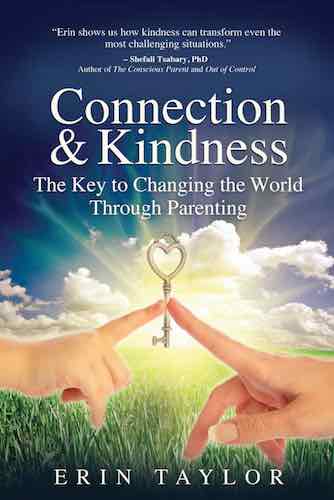 PCI Certified Parent Coach® Erin Taylor has written a gem of a book that's a "must-read" for every parent on the planet. Why? Weaving personal narratives of her own experience as a mother, along with compelling stories from her work as a therapist and parent coach, the author accomplishes a rarity in parenting books today: Giving guidance, not from telling moms and dads what to do, but from sharing what is most dear, important, and supportive of children's optimal emotional/social intelligence.
Throughout, she makes a critically important distinction between seeking compliance from our children rather than connection with our children. With a continual emphasis on conversation, dialogue, emotional resonance and get-togethers in all shapes and forms, Erin continually shows the many ways moms and dads can connect—even when difficult. One example of this is the discussion of letting go of compromise and replacing it with negotiation, demonstrating there is so much more for both parents and children to gain in this process—however more arduous and time-consuming.
Although we know from research from several decades now, that our connection to our kids is so much more critical than any of our parenting methods or new-fangled ideas, it is a consistent challenge for most moms and dads today to maintain a deep connection with their children when faced with kids' behaviors or attitudes in need of adjustment. This book clearly shows how to keep and build those timely and timeless connections for much more joy, while tapping into the inherent generosity and kindness of our children and teens.
Connection, as Erin wisely points out, re-establishes a child's enthusiasm for life and for participating more fully in family life, as well. From her work with adoptive and foster parents Erin offers ideas and a holistic viewpoint for supporting the uniqueness of this parenting journey while celebrating its ordinariness, as well.
In fact, the entire book lauds the extraordinary moments in the ordinary daily routines of family life. Along the way, Erin emphasizes sound parenting practices such as letting go of bribery, trickery, and anything that this is manipulative, while replacing it with our parental authenticity. For instance, in a lovely illustration of the importance of not instilling fear in our youngsters, Erin begins with her own story of not letting the fear of a world-gone-mad influence her desire to have children.
In fact, she explains that after the tragedy of Sept. 11, 2000, she asked herself, " 'Am I nuts? Do I really want to bring another child into this crazy, mixed-up, scary, violent world?' My immediate answer was a resounding, 'Yes!' As far back as I can remember, I had dedicated my life to trying to make the world a better place. Now, the realization dawned on me that having more children wasn't just a matter of building our own family…I needed to bring children into the world because the world needed these children…'"
From this point of view and insightful mind, Erin offers her own example of helping her children counter fear with connection and kindness: "…I take time each evening to truly be with our children. I look at each of them, seeing them for the amazing young people they are. I tell them what's in my heart. I find that when the sharing is open and honest, a child's trust flourishes, and with it the kindness with which they venture into the world to make a difference."
This beautiful rhythm of sharing stories, struggles, and successes, while always providing wise parenting encouragement, permeates Connection & Kindness. Pick it up today! It will not only inform you, but will inspire all aspects of your parenting, as well.