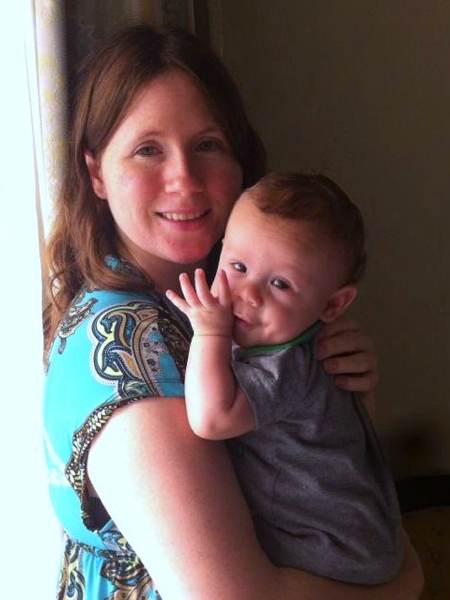 Amanda Tinnin
Abu Dhabi City, Abu Dhabi, United Arab Emirates
Grow your parenting presence through Little Gifts Parent Coaching with PCI Certified Parent Coach® Amanda Tinnin
A decade of English teaching experience, and four years of Montessori training combined with a love of continual education brought me to the Parent Coaching Institute. My parenting education journey led me to one conclusion: There is no one-size-fits-all parenting model; however, healthy parenting comes from a respectful place for yourself, your partner, and your child.
The Etymology of Little Gifts
I am quite obsessed with words and carefully crafted my business name as a reminder to practice gratitude. I do not think I would have become a parent coach without having my precious little gifts Theodore (Gift from God) and Meera ("Prosperous") and my very supportive husband Richard, who is not the "stern ruler" his name suggests. He is one of the loveliest gifts in my life, who has taught me about true loyalty and partnership. Little Gifts is also about the things we give to ourselves, our parenting partners, and our children to help energize us throughout the day. Little Gifts includes the varied resources that we in the modern age have available to us like Dr. Montessori, Malaguzzi, and Gerber. It also refers to seeing the many blessings that surround us and being present to enjoy them. Throughout my educational studies, time as a parent, and training at PCI, I was able to uncover my coaching gifts. I discovered my ability to provide a safe space for clients to share stories and realize their own strengths as a parent, parenting partner, and human being.
Personal Parenting Philosophy
Gentle parenting is not as straightforward as "copy-pasting" well-received concepts and superimposing it on your particular family. Many educators and parenting experts can have a profound influence on your parenting; however, at the end of the day, I suggest that modern parents awash with information need permission to trust their instincts more and seek out evidence-based materials and trained practitioners—including parent coaches—as guides, not gurus.
Parenting can take a huge toll on any relationship. When I speak about relationships, there are three basic ones that concern me as a parent coach: the parent in relation to self, the parent in relation to their parenting partner, and the parent vis-à-vis their current or future child. Things can get complicated when you add other family and community, as well as institutions and the social norms particular to your area of the world, but my focus is on the parent.
I find many of our greatest parenting a-ha's come from embracing our fragility and learning what not to do from the worst version of ourselves. We are all beautiful works in progress, imperfect and striving to learn and grow through our experiences. Growing a mindful parenting presence is something that can be truly challenging in this modern age.
There is a beauty in striving for mindfulness through parenting. Being present comes from focusing on the now and working with and appreciating who we are at this moment. For me that means celebrating authenticity. How do we celebrate our authentic parenting selves? I believe we do this through a combination of self-reflection and activity. By reflecting on the parts of ourselves and our parenting that we perceive as magical, not so pretty, and those many instances in between, we give ourselves the space to forgive and carry on. By engaging with our children in daily spurts of mindful interaction, we engender the energy to love and thrive.
An Invitation
The parents I choose to work with, and the ones who are drawn to my coaching, aspire to consciously co-create their best parenting self through a combination of inner work and external activity to bring about a deeper, more respectful interaction with themselves, their parenting partners, and their children. If this resonates with you, I invite you to join in a co-constructive process to unravel just what it is that makes you a one-of-a-kind parent. The new found positive energy will help foster your creative flow to heal, reveal, and amplify all the little gifts you offer to your family and humanity itself. No matter the challenge facing you right now, I know that you can become the best, most authentic version of your personal, parenting, and partnering self.
I coach individuals, couples, and groups of people who are ready-to-be parents, expecting a child, or who already have children of any age. I also offer consultancy services in Montessori-inspired education and respectful parenting practices.
What Parents Say After Coaching With Me
"
Amanda's coaching came into my life when I was most in need. It helped me get calmer and more patient with my child, it helped me get closer to him and become a better self. I even got closer to my husband with each passing session as we got the chance and time to discuss our parenting beliefs and actually make a plan for what we want our family to be!
"
Bucharest, Romania & Abu Dhabi
"
I enjoy the super relaxed conversations, I did not feel I was being analyzed or judged in any way. On the opposite, I felt it was a safe space for me to express my concerns, doubts, questions, complaints, and dreams. The whole process helped me heal and helped me realize the full potential of my family working as a team. I discovered ways of achieving the wildest dreams. All while having fun and comforting that part of my mind that kept asking 'but what if?'
"
Mexico City, Mexico & Abu Dhabi
Search by Specialties

Browse by Location

Find by Name
Search by Specialties